FRAGRANCES
We've spent over 100 years mastering essential oils, the building blocks of our fragrances
---
EXTENDED PALETTE
Our extended palette results from our mastery of extracting essential oils from the Earth.
In the labs of our talented perfumers, this palette transforms into complex, sophisticated, and unique fragrances to differentiate your product in the marketplace.
Our custom fragrances scent many of the products you use every day
TALENTED PERFUMERS
With more than 86 years of combined domestic and international perfumery experience, our senior perfumers are unique blends of science and art, combining technical knowledge with creative essence to develop custom blends specific to each client.
FRAGRANCE TEAM SUPPORT
It's not just the perfumers working on your fragrance, either. Our perfumers are supported by an entire team focused on the sensory impact of your product: your sales representative, the fragrance evaluator, the analytical chemist, the applications chemist, and the quality assurance lab.
Lebermuth has vast experience across multiple industries and with many exclusive brands


FORMULATED FOR APPLICATION
Speaking of formulations, we formulate your fragrance specific to the finished application, and verify physical, olfactive, and structural traits to ensure the fragrance we develop works perfectly in your product.

SERVING THESE INDUSTRIES AND MORE
Aromatherapy I Baby care I Home fragrance/Environmental I Industrial and household cleaning I Odor masking I Personal care I Pet care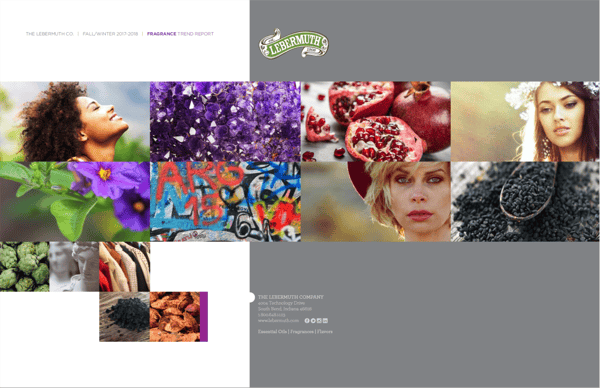 TREND REPORTS
We can't predict the future, but we can forecast the trends that will impact the marketplace. We provide trend outlooks up to 24 months ahead, so that you can develop a product that hits the right (fragrance) note at the right time.
Previous Reports: Spring/Summer Trend Report for 2017 here.
WANT TO WORK WITH US?